Due to LSF being moved to April 2020 from its normal autumn slot, Chris and the team decided to fill in the gap with LSF Accelerate. This was a condensed version of the larger event. There were no parallel streams and the event only lasted 3 days, with a Friday for pitching only.
I attended all 3 days, pitching on Friday and Saturday. Although I'd pitched once before, it was still nerve wracking, not helped by my travel on the morning for the first session. Friday morning was a pitch table format, where we queued for the person we wanted to speak to and spoke for 5 minutes. The pitching on Saturday was a Pitch Party, where it was less formal, with each industry delegate standing.
I'd prepared my list of targets prior to the event but unfortunately 2 of the 3 couldn't make the first session and the one remaining had a massive line as I entered. So to plan B, ignore my priority list and just chat to whoever was most free. This took all the pressure off and I had two great sessions. Of course, I did tell them 1 or 2 ideas if the moment arose but I felt under less pressure to do so.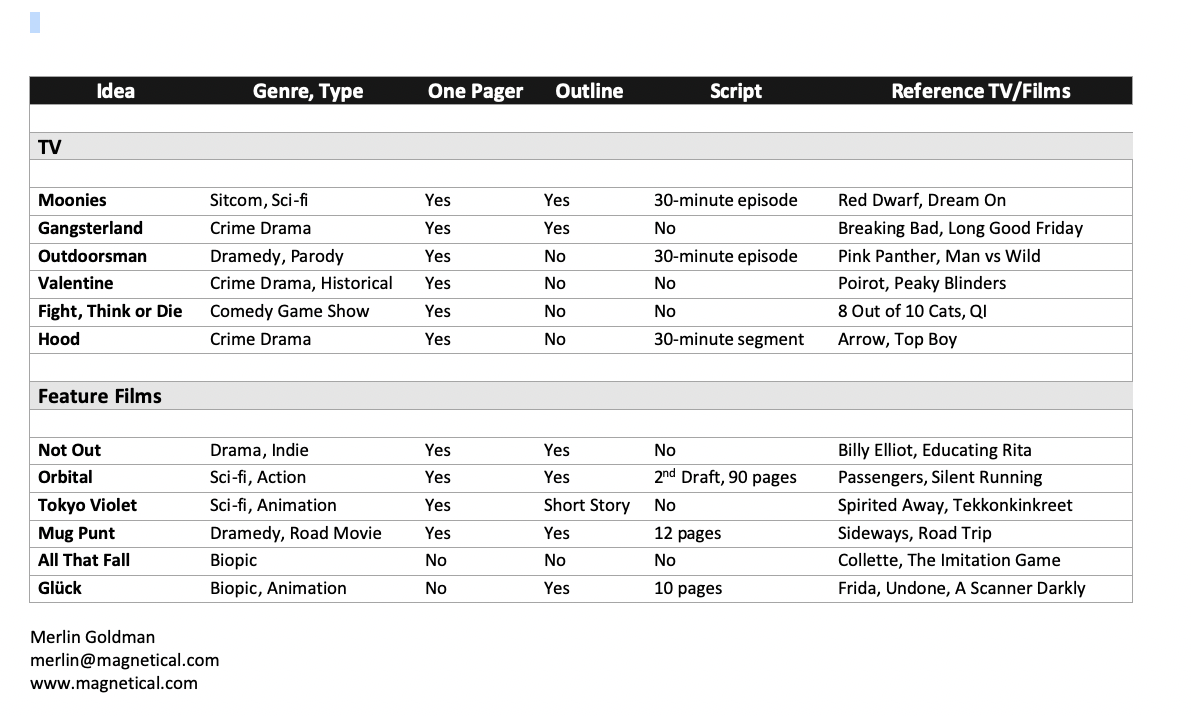 I created my own summary table above to remind me of my works in progress, so I could refer to something should I see an opening. I added my contact details should I give a copy out. On top of that, I had a number of 1 pagers. These are 1 or 2 sided documents that summarise your story idea. I printed these off on heavyish paper and had 4 of each. I printed in black and white but would in future, try for colour, as I broke up the text with images. In general, all the industry people were great and it was easy to talk to them.
In terms of the speakers, Rachel Patterson, who'd spoken at TC 5 gave an updated talk, focussing on her experience of General Meetings. David Pope spoke eloquently about subtext. Mellie Buse talked amusingly about children's tv. Philip Lawrence spoke about writing for Eastenders. Rachel then interviewed three industry panellists about the state of the industry. I shot off at the end of this talk for dinner and to go and see The Antipodes by Annie Baker. This was a fun play set in a Writers Room.
On Sunday, Stephen Follows kicked us off with his insightful and funny talk about genres. Kira-Anne Pelican spoke about the theories for why we tell stories and Jon Gilbert spoke about how films with inactive protagonists may be less so than you think. Later, we had an excellent Q&A with Christopher Hampton delivered by Liz Slade and that was followed by 2 of the Peaky Blinders team.
After lunch, we had a really enlightening talk by Matt Charman, the screenwriter of Bridge of Spies, about the film which was played above his head as he reflecting on it. I had to shoot off at this point back to Bristol. It was a greatly rewarding couple of days and excellent value for money.