I've recently become a beta tester for NYU's Writing the Feature course. It's part of their Young Screenwriters inititative to give guidance to emerging screenwriters through video training and coursework. NYU is
The School of the Arts at New York University was founded in 1965 to provide rigorous conservatory training in theater and film in the context of a great research university. It's no the the country's preeminent center for the study of the performing, cinematic and emerging media arts. John Warren is the course leader.. He began his writing studies at Ohio University and continued at the New School in New York. In 1986 Warren accepted a fellowship at the American Film Institute in Los Angeles. That same year Warren sold his first script, The Body Politic, to Orion Films.
I got alerted to their free (via a code) Writing the Short course. I didn't do the assignments, so no certificate, but found the talks clear and although basic, did provide new insight into screenwriting theory. If you want to test the programme yourself, pay for the full course with feedback or without for free, here. I was asked to be a beta tester on their Writing the Screenplay course. This offers the same mixture of video tutorials, film clips and transcripts with weekly excercises. It also includes his ex students, signed screenwriters, giving tutorials too.
I'm currently in week 2 and enjoying them. It's more complex than I was expecting which is great but also quite tiring, especially with a post Covid19 brain. In particular, Alexi gave a talk that discussed the pyschological basis related to a theory of how the inner need causes the flaw in your character. She also discussed how once your protagonist overcomes their flaws, they satisfy their inner need and then give their answer to the thematic question. To help me understand it, I created an image to help me: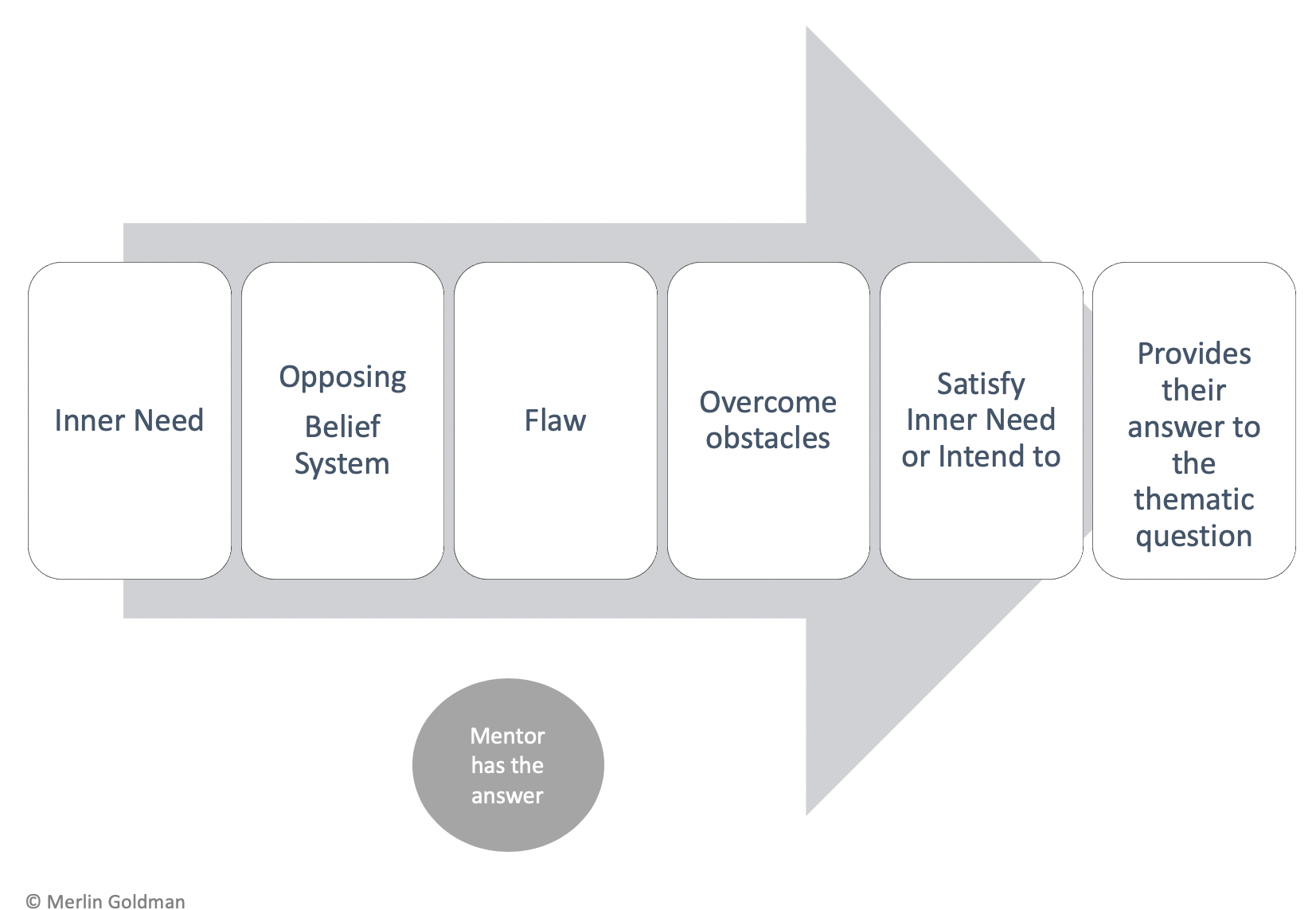 In week 1 we had a stab at logline and week 2 we refine it. We're using Dischord to chat and share thoughts. I've only just got used to Slack and Kajabi and now Dischord! Anyway, getting to grips with it slowy. Stay safe.