I spent a week in Edinburgh, mostly to attend the Fringe Festival. I did consider Tom Morris's Breaking the Waves which I heard was good but let's see if it comes to Bristol. As I'd recently completed the John York Story for Screenwriting course, my head was full of structure. It did make it even harder to just enjoy a show and in particular those that didn't follow the JY template. He'd argue his template is universal and I tend to agree.

When you watch something entertaining, I believe it can be enhanced using a story structure. My evidence for this is that the shows that 'sell out' tend to do this. This doesn't mean the other shows are wrong or inferior but if they want to maximise bums on seats, they should definitely consider the use of a dramaturg. Or me. As well as the shows, I caught up with friends and got lucky with the weather.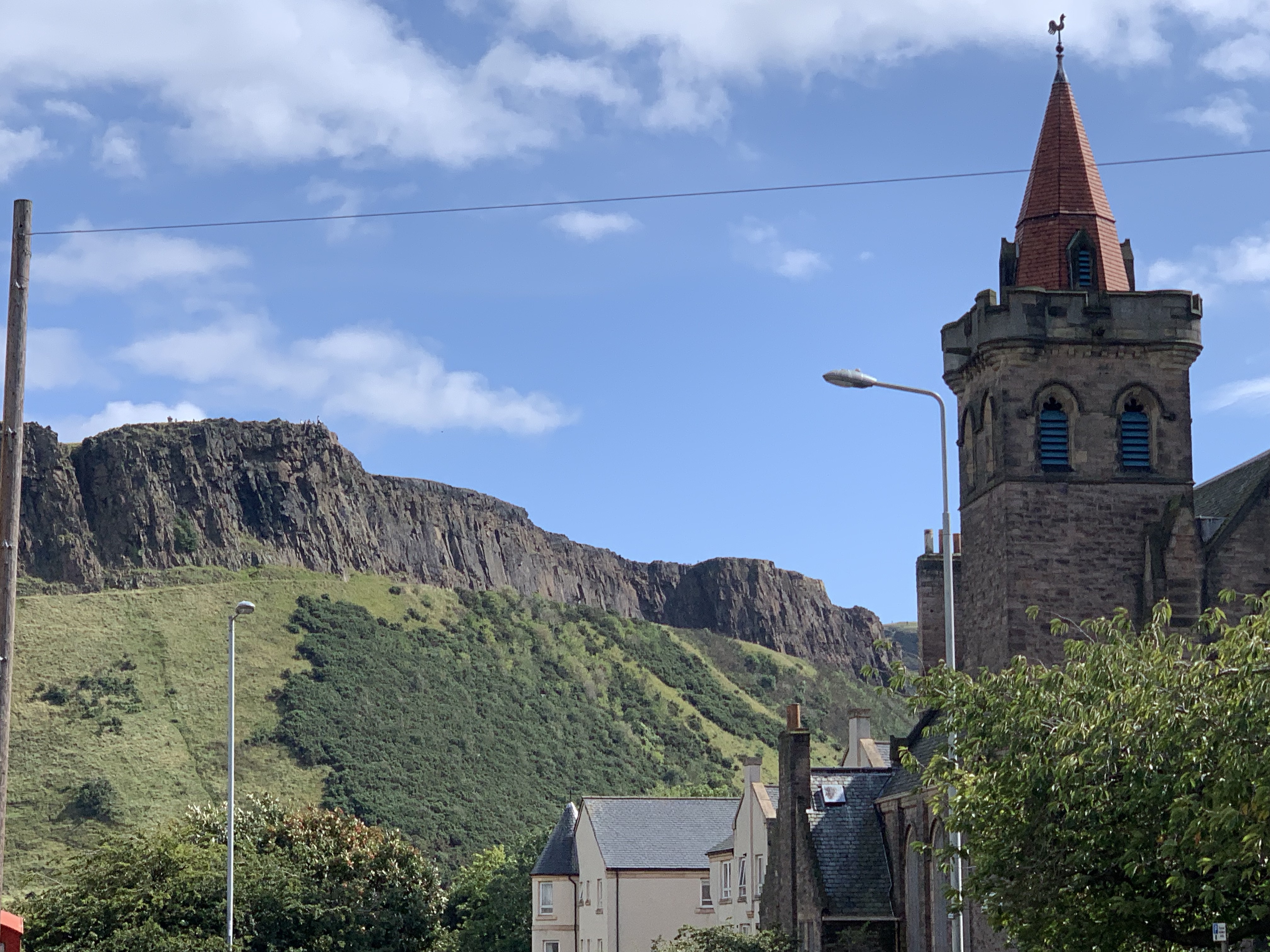 I'll give a brief review of the shows I saw below:
Rattigan's Nijinsky was my first show, early in the day at Surgeons Hall and performed by six formers from KGS in London. Considering their experience, it was well acted with good costumes and brought to life Nicholas Wright's solid script covering Rattigan's last months. The next show was Accident Did Not Take Place at the Pleasance Courtyard by YESYESNONO. This felt Tim Crouch in places, utilising a fresh actor each day and putting them in the position of an heroic airline passenger. I found the playing with forms as equally irritating as interesting.
On Thursday, I saw War of the Worlds in a large space called the Forth also at the Pleasance Courtyard by Rhum and Clay. I've seen shows by this team several times and have seen them mature from a purely mime-focussed format to assured storytellers. The show has a lovely mix of both with fun and interesting themes on fake news and false narratives. The highlight of my festival was next: Fishbowl in the The Grand again in the Pleasance Courtyard. Here we had a near perfect example of the application of story structure to a show without dialogue. Two single men live side by side on the top floor of a roof. When an attractive woman moves in next door, their fragile existence is shattered forcing them in to a battle for her affections. They suffer, they win, they lose and lose again only to come together as neighbours to save her at the last minute. Magnifique.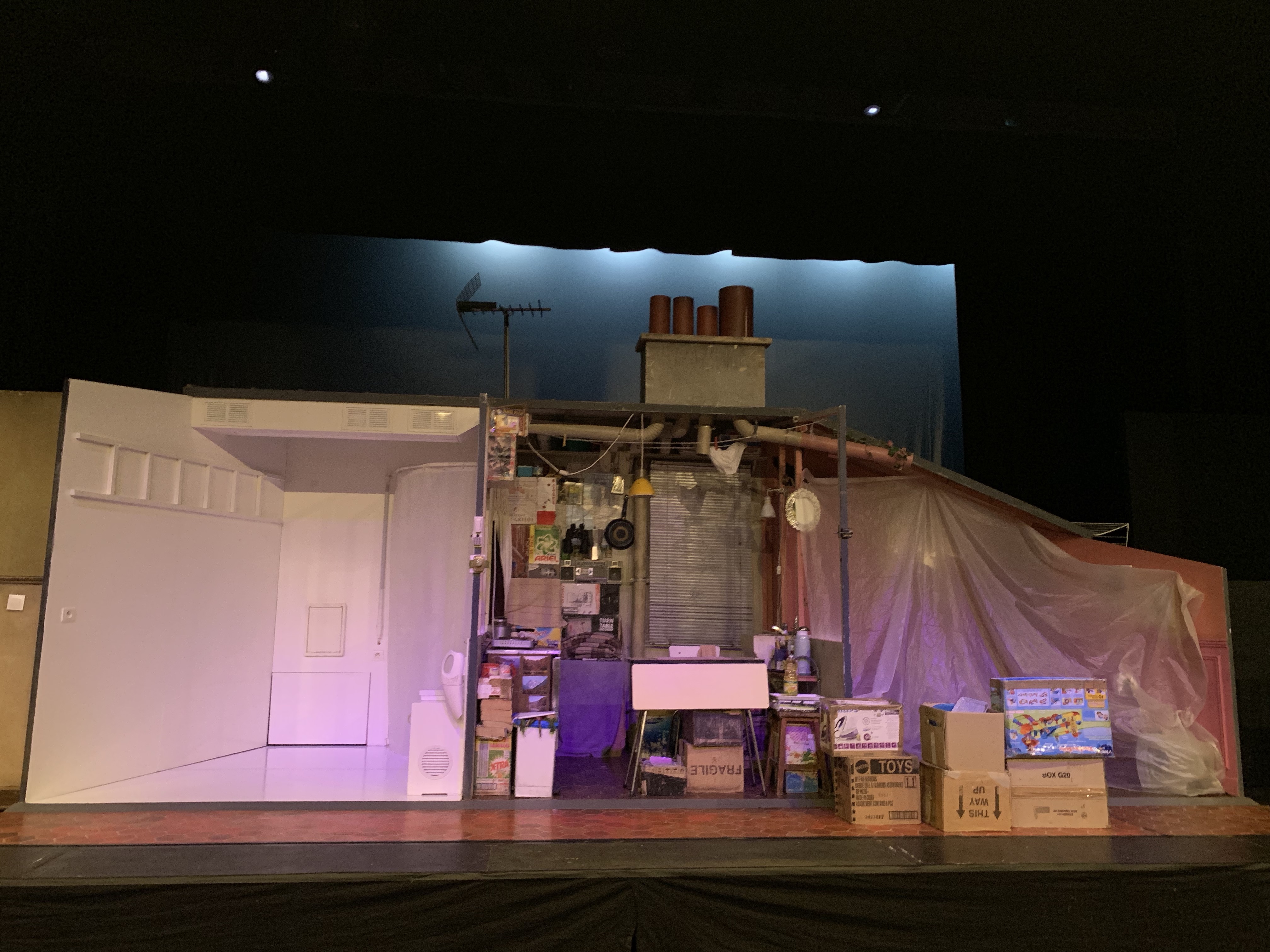 The next day I saw Bittersweet, which was a National and ELT Short Play Winner. The National newspaper along with Edinburgh Little Theatre ran a competition throughout April and May 2019 where the winning plays chosen from lots of entries were selected by a panel of industry experts and these three plays won a prize of £1000 and the opportunity to showcase their plays in our venue. It was at the Edinburgh Little Theatre off Princes Street. I mistakenly thought by short, they meant 20 minutes and I would be seeing 3. In fact, it was a single two-hander about a couple's relationship which is put under strain when the woman becomes pregnant. It had some good dialogue but some of the flashbacks and dream sequences left me confused.
I headed to the Edinburgh Botanics for a morning stroll and immediatley regretted not having shorts as I entered the humid glasshouses.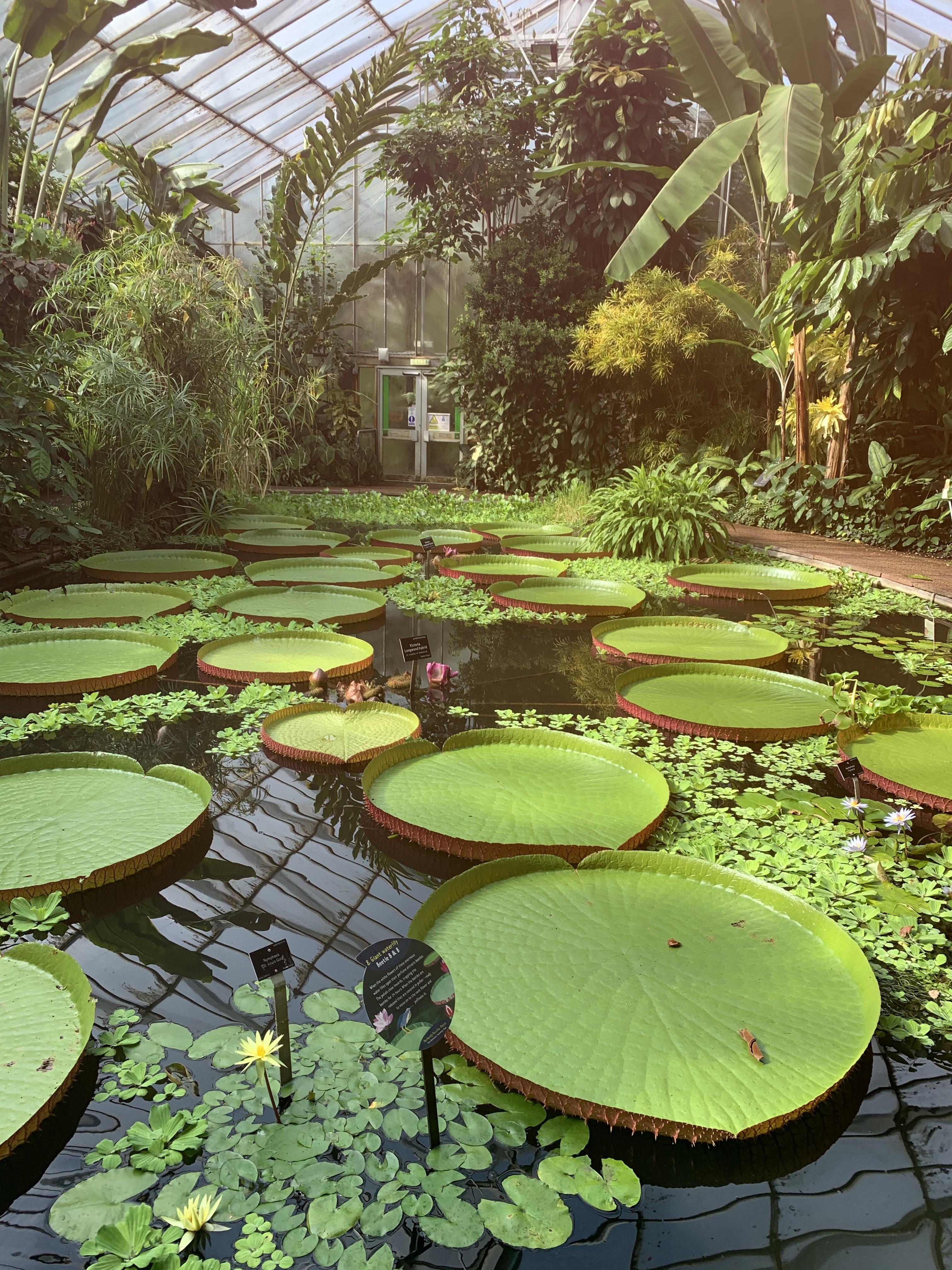 In the afternoon, we trekked up to a venue at the top end of the action, most of the way to Cameron Toll. However, in the lovely weather we had a good 20 minutes sitting in the church gardens so we didn't mind. We saw Macbeth played by a single Korean actor. It was so energetic we felt exhausted for her. It was good fun but needed more sound and light design elements to fill the big space. Next was Kombini at the Underbelly's Circus Hub on the Meadows. In the busy Saturday traffic, it took nearly thirty minutes to get from George Street by bus. This was a charming two hander with some great moments involving popcorn but it lacked the benefits a story might have brought to its emotional and intellectual impact.
And Before I Forget I Love You, I Love You was a return for Pip Utton an actor and playwright who focuses on monodramas. He's based in Frome in Somerset. The powerful piece focussed on dementia and was both expertedly written and immaculately performed. On Saturday night we saw Goodbear: Dougal which was a fun double act with lots of funny sketches, helped if you'd seen Forest Gump. It was hot and steamy - I was pleased to be wearing the shorts I'd bought earlier. Afterwards, we went to the Assembly Roxy to watch Inflatable Space. This extraordinary show incorporated a large, bagel-shaped inflatable that acted as both projector screen and as a physical object for interaction. The piece focussed on the Voyager spacecraft and the gold disc.
Oh, the Bridget Riley exhibition was cool and provided a nice interlude.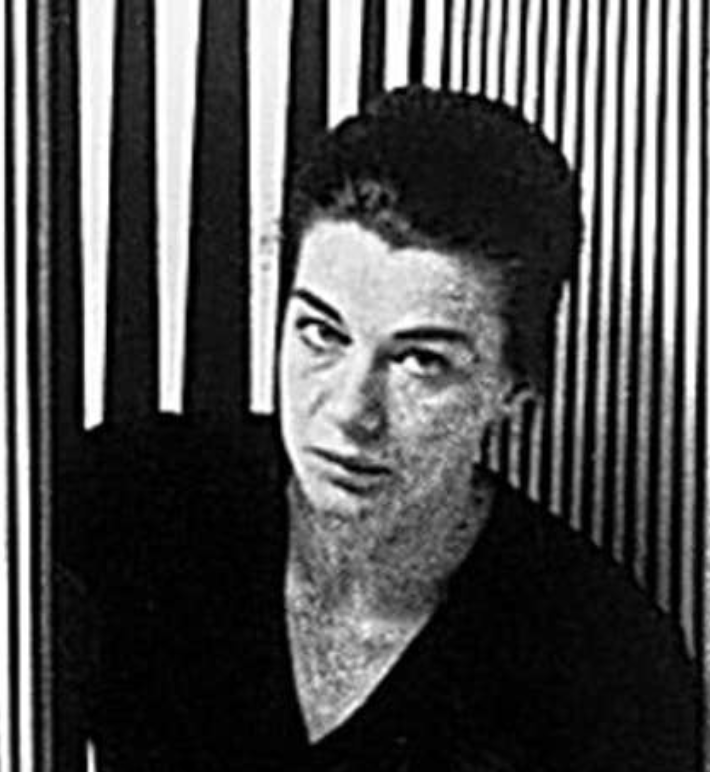 (c) Evening Standard

We took to a single person storytelling show in a tiny tent in the Pleasance Courtyard. This was the kids section and it was one of the few evening performances. We were now at hte end of some runs. Wild Unfeeling World was a mixture of Moby Dick along with the story of a woman's attempts to save a whale stranded in the Thames. The switching around of the protagonist was confusing. As I'm currently reading the book, one of it's appeals is seeing through Ishmael's eyes the horror and riskiness of whaling. I got a half price ticket to see The Patient Gloria, at The Traverse - my favourite venue. It was an extremely slick, well acted and theatrical piece about patriarchy and male-centred pscyhoanalysis. I wasn't convinced the world of now and then perfectly intertwined and probably would've been happy with them as separate pieces.
In the evening, I finally got back to the ROUNDABOUT at Summerhall where I saw so many great shows last year. We were there to see Square Go a rumbunctious two hander about bestie mates waiting for one of them to meet the school bully for a showdown. It was brilliantly constructed and had plenty of interaction with the audience, capturing the feel of those wrestling matches from the 70s (I imagine). It was a fantastic show and had a full standing ovation. It's Scottish lingo was a joy and the two boys/men's friendship shown through and questioned what was all the fighting for.
In my final afternoon, I saw Algorithms - the new Fleabag, supposedly. It certainly had similar elements: a sassy single woman looking for love in all the wrong places. But differnet as it was through the lens of internet dating and bisexuality. It was supremely well devised, written and acted. It felt like something that had been workshopped to perfection and there's nothing wrong with that. It's a show that would sell out for weeks in any small venue in an urban location. My final show was Pink House at the new PQA venue off the Royal Mile. This told the story of an uptight jewish woman from England who has to care for the adopted child of her daughter who's recently died in the US. On top of this, she has flashbacks to her traumatic experience as a child in Nazi-occupied France. It was well acted but I felt the set was over fussy and perhaps there were too many roles for a short piece in a tight space.

On the last night, we caught the amzing fireworks display from Carlton Hill.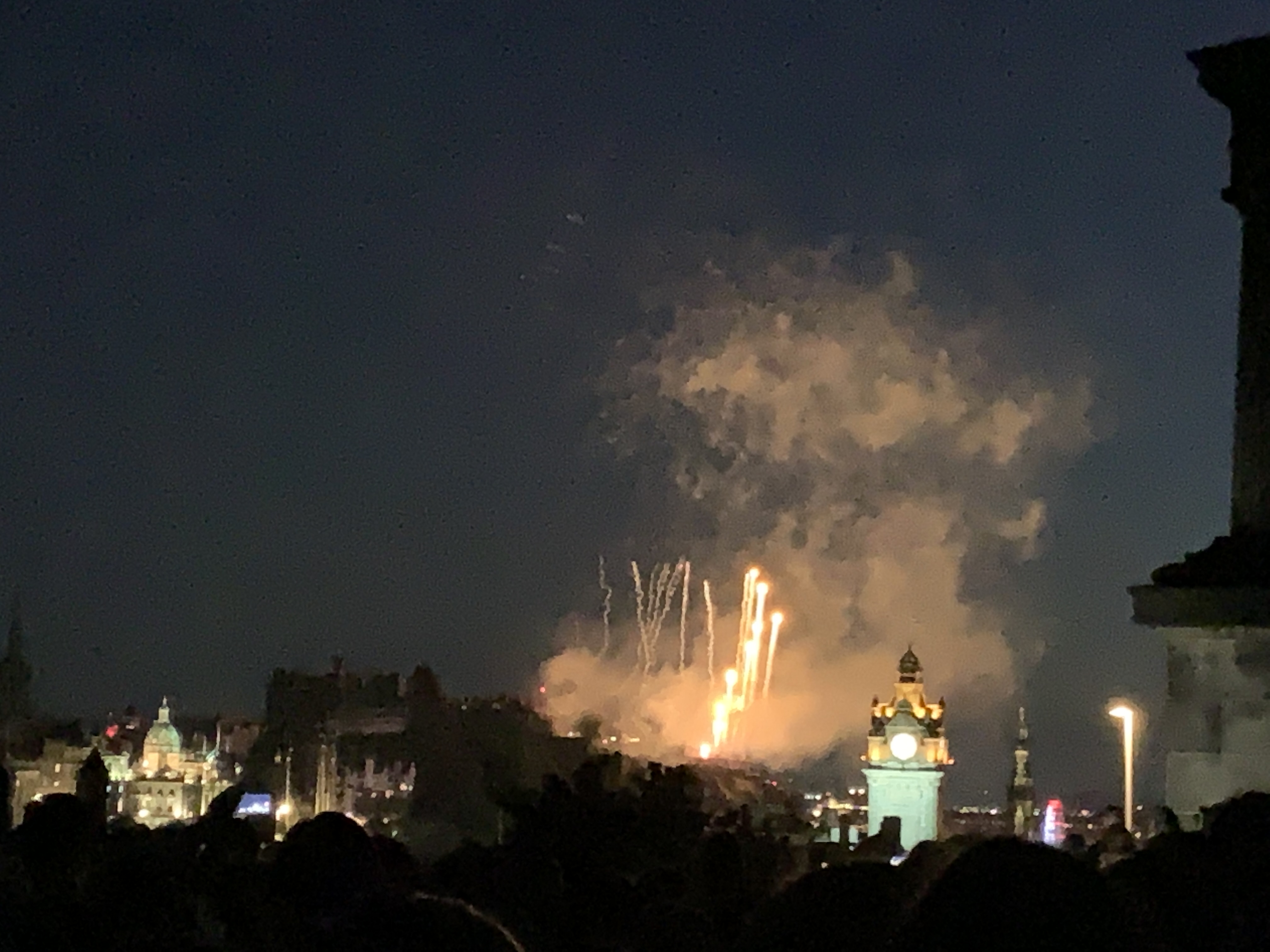 So overall, a great week of shows. Costly, tiring and it felt a little like being at a conference. However, I'm hoping I learnt a lot - it will be subconcious I suspect.