Image by Bokskapet from Pixabay
In this blog post, I'll be giving short summaries of workshop or talks attended over the last 2 weeks.
Marketing and Distribution
On the 5th February, I attended a talk on FilmMarketing, Distribution and Festival Strategies, organised by UWE, held at the Arnolfini. The speakers were Philip Ilson and John Giwa-Amu. Philip Ilson is the Director of the London Short Film Festival and the short film programmer for the BFI London Film Festival. John Giwa-Amu runs production, distribution and financing company Red and Black Films with writer/director Caradog James. John produced Little White Lies (2006), The Machine (2013) and The Party (2017), written and directed by Sally Potter.
John's first film that got him noticed was Barrie the Barber. It's a fun but poignant take on loss. It's had 2000 views since 2009 whereas his new one, The Complex, has had over 100k in about a week. His first feature, White Lies, was made for £90k and won awards but he then had a gap of 6 years. In retrospect, he feels he was too focussed on making his passion project.
John talked further about budgets for marketing and distribution as well as making trailers and posters. Short film trailers should be 30-60s compared to a feature trailer of 90s. He showed his press release for The Complex: overview was 50%, along with the other materials e.g. Fonts, still images (film, set) and of course, the trailer. He had a period of directing Doctors on the BBC.
He made The Machine for £200k, although IMDB says £1M. It costs £3-5k to advertise around each cinema and with 300 cineimas, that's quite a lot of money. For something more targetted at games, this can be lowered to £15k. For The Party, he raised £2.4M as Executive Producer (a loose term that can mean anything from no involvment to doing most of the producing work).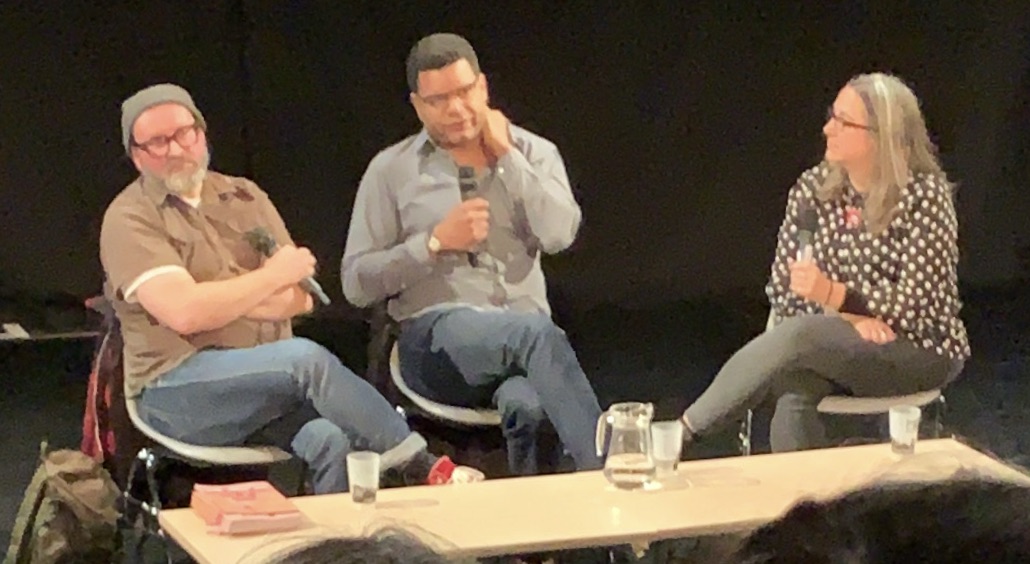 The recent tightening of EIS and the collapse of DVD sales has contributed to the halving of films made last year. The Deadline. article is here. Therefore, if the UK wants to make indie films, a complete rethink is necessary. My view on EIS, is that it was intended to fund businesses not projects. Films were being packaged as companies and HMRC has put a stop to this.
We switched to Philip, who spoke about the need for film festivals despite the proliferation of online viewing. Digital storage has meant his job has been streamlined. It's easy to enter too. Only a few European festivals prefer hard copy submission. Philip will watch 100s of entries. To stand out, you really need to do something different. There are too many polished Eastenders type submissions.
The 3 films he showed as examples were Pompeii, If you knew & DNA and Astro. Unfortunately, they're not viewable yet. All were spetacular in different ways. John felt the sweetspot was when arthouse and commercial converged. For festivals, rough is okay. Philip's analysis of previous winners of the London Short Film Festival, found very few winners had gone to make features. Few of the directors appeared to be working. Short films are best at the 8-12 minute mark.


Animation
I attended a two hour animation session at Boom Satsuma in the Engine Shed. It was run by Jane of Into Film. The formal title was Stop Motion Animation Level 1. We had an introduction to the history of the artform, followed by nearly an hour of having a go in small groups.
Our group chose clay and we made a little scene where two fish have a tug of war with a piecce of plastic. You take 2 shots for each setup, move the objects, then take another. We got quite quick at it and made a few seconds of animation. It was good fun.


Advanced Scriptwriting
This was run by Lucy Hay and was held in the Exeter Phoenix. I travelled by train and got a little lost finding the venue, hidden as it is behind the high street. It was a catch all building, with cinema screens, cafe and a theatre. In the day's workshop, Lucy took us through from the basics of a 3-art structure to an analysis of our script.
Her take was a script is made up of a concept, characters and structure (plot) with the last 2 being the most important. However, if its often the concept that gets you through the door. Films are often called character-led or high concept. An example of the former would be a Ken Loach film vs something like a Night M. Shyamalan movie.
We talked about what makes a good character. There are usually archetypes e.g. prototypes such as the hero, villain. A sterotype would be the dumb blond or surfer dude. Tropes are stereotypes or premises, that become recurrent, idientifiers or motifs. These can easily go from popular to unpopular.
Plot: what happens
Story: why it happens
Movies are usually in 3 Acts with TV having more. Most Hollywood stories are hero's journey type but there are several others (7 basic plots according to some). Captain Marvel is unusual as a superhero movie in that its a rebirth story. A script is ready usually after 3-7 rewrites over a 6 month period.
I took my sci-fi script Orbital with me. I'd not looked at it for a while which was a bit of a problem but made some progress with it during the afternoon. I need a more visual opening with the theme of money through it. My current beginning has her in her rich flat but this is likely to prove unsumpathetic to the audience.


Directing
The final workshop was on Directing Film run by Jesse Lawrence, held at Somerset Film in Bridgwater. This a 50:50 mix of practical tips with examples along with hands-on working with actors, filming and playing the shots back. It was a well constructed day, easy to get to from Bristol and good value at £60.
We had some general discussion on what makes a good script and how to give notes. It was suggested that each film have a Director's Vision statement, to help set the tone of the film. This is often required for funding applications. This would include items such as:
Why do you want to make the film?
What's it about?
Who's story is it?
The look of the film

Format e.g. 16mm or digital
Shot strategies
Design
Palette
Sound, music

Reference films
Target audience
Marketing and distribution
There was a lot more content and the slides have just come through. However, I won't load them up here in case you want to attend the next one but here are some highlights.
Pre-production
Go through script and do a producer breakdown.
One to one meetings with Heads of Department
Meet as a team
Share and change
Let experts do they're thing.
Locations
Visit oftern
With different HOD
Jesse uses Panascout to take test shots but I found this app is no longer available. However, there are some by Cadrage and Artemis for £20-30.
Casting
If you need children, ITV WEST Television Workshop provides a good resource.
Filming
We then dived into a sample script by Dee Chilton. We looked thorugh it and then created shots using two actors, Becky and Danny. We filmed a two shot straight on, followed by two singles over the shoulder. It was good fun as the 3 of us took turns doing sound, camera and directing.
We had a chance to ask the actors to redo based on feedback. This was quite challenging alongwith trying to look at the camera screen all the time. It gets easier with practice, I'm sure.
Our crib sheet for starting again will be:
Stakes - what are the stakes in this scene
What does each character want
What does each character need?
What are their goals?
Overall, a good day to have a think about the process, having dived in previously.